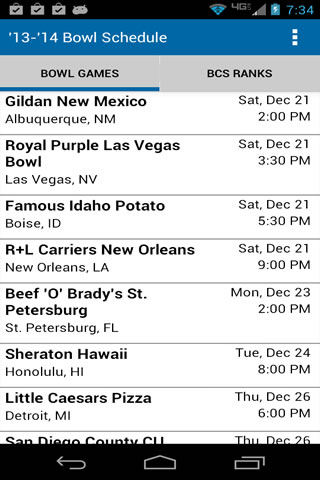 Don't miss a game of the upcoming 2013-2014 college football Bowl season with the schedule app that has the dates and times of all 35 games including the BCS championship in Pasadena.
You'll get kick-off start times, matchup possibilities and the host TV broadcaster for each of the Bowls in an simple, easy-to-read format.
In addition, the App has a section displaying the latest BCS rankings. So regardless of your allegiance - Alabama Crimson Tide, Florida St. Seminoles, Oregon Ducks, Ohio State Buckeyes, Stanford Cardinal, Texas A&M Aggies, LSU Tigers, Baylor Bears or the Clemson Tigers - you'll be kept updated with their latest standing in the BCS.
And once the Bowl and BCS matchups are announced in late December, the App will be updated to reflect the final matchups.