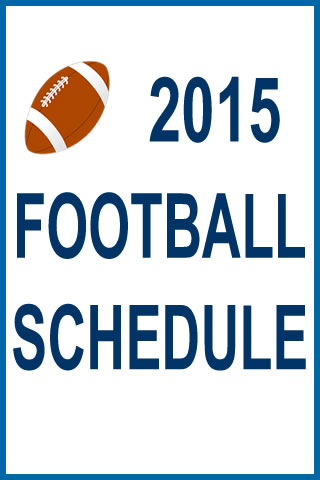 The full NFL Schedule is out so don't miss a game with this handy app.
Easily browse through the games week-by-week, or pick out your favorite NFL team's schedule or choose from Monday night (MNF), Sunday night (SNF) or Thursday night (TNF) match-ups.
Sharing is built in. Easily tweet or email a game to your friends, or save your favorites to your calendar so you can be alerted when the game is about to kick off.
We'll be updating the app to includes scores, stats and much more once the season kicks off in September.
** Stats section now lists passing, rushing and receiving leaders. Quickly browse home team records, the biggest football blowouts, shutouts and most points scored in an NFL game this year. And team stats are included, plus more!
The first week of games are out, they include:
Pittsburgh Steelers at New England Patriots
Indianapolis Colts at Buffalo Bills
Green Bay Packers at Chicago Bears
Kansas City Chiefs at Houston Texans
Carolina Panthers at Jacksonville Jaguars
Cleveland Browns at New York Jets
Seattle Seahawks at St. Louis Rams
Miami Dolphins at Washington Redskins
New Orleans Saints at Arizona Cardinals
Detroit Lions at San Diego Chargers
Baltimore Ravens at Denver Broncos
Cincinnati Bengals at Oakland Raiders.
Tennessee Titans at Tampa Bay Buccaneers
New York Giants at Dallas Cowboys
Philadelphia Eagles at Atlanta Falcons
Minnesota Vikings at San Francisco 49ers
For the rest of the season, get the app!
** Now includes team standings (updated daily) and select stats and league leaders (updated at the end of every week).
Quickly look up team win-loss records on the road or league averages on Monday night. You can also find obscure stats like winning percentages when teams score 30 or more points!
League statistics available at your fingertips:
QB Leaders
Rushing Leaders
Receiving Leaders
Best Records
Point Scoring Differential
Total Points Scored Leaders
Toral Points Allowed
Scoring Splits
Home Records
Road Records
Biggest Blowouts
Closest Games
League Shutouts
Team Margin of Victory
Home Win-Loss Records
Most Points Scored in a Game
Fewest Points Scored in a Game
The 2015 Football Schedule NFL app is not affiliated in any way with the National Football League (NFL).